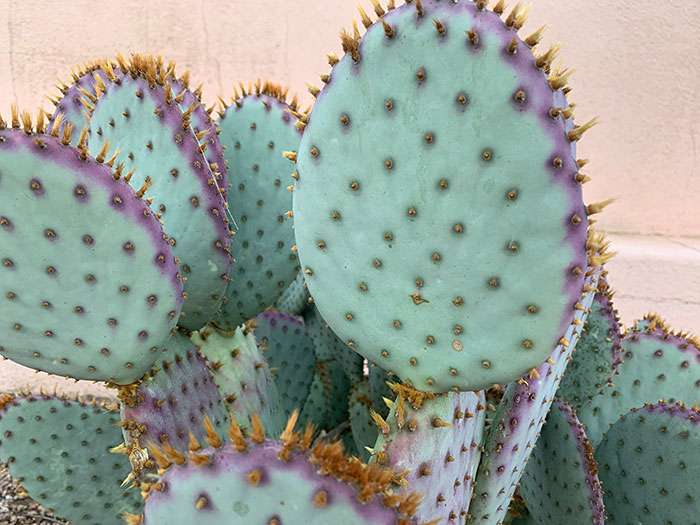 July Newsletter | 2 Perfect Summer Movies
View a mobile-friendly version of this newsletter
>> Open a mobile-friendly version of this newsletter <<
Hi, Friend!
I hope you're staying cool this summer. This is our first full summer in Arizona and we've already hit 117 degrees. I'm not complaining because the other three seasons here are lovely. Plus, we have purple prickly pear (see photo above, taken on one of our neighborhood walks). To cope, I'm keeping our freezer stocked with cartons if ice cream and have switched from lattes to affogatos. Try one—they are delicious! >> Here's a recipe <<
We're about to enter the "dog days" of summer—which, apparently is not called this because the sweltering heat has reduced us to puddles of sweat lying around like a lazy dog, but rather refers to the position of the Dog Star, Sirius. Either way, below are some of my recommendations to make your summer a bit cooler.
Summer Recommendations
Viva Big Bend (July 23-26), one of my favorite summer music festivals, is going online this year. Though there's nothing like escaping to the Texas Mountains and dancing to live music being strummed, drummed, and crooned right before your very eyes, this is the next best thing. So, whip up a batch of margaritas, go sit out on the porch, and join the festival online!
Most interesting article I read this week: Horseshoe Crab Blood is Key to Making a COVID-19 Vaccine in National Geographic. I learned a lot reading this—fascinating.
Two Perfect Summer Movies
Y'all, it's sooo hot outside. Sometimes, the only thing to do is lay under the air-conditioning vent with an ice-cold Dr Pepper and a big bucket of buttered popcorn and watch a movie. There are movies I tend to watch every summer—namely, Dirty Dancing—but I'm always on the hunt for a new favorite. Here are two I recommend.
Dumplin' has all the ingredients I look for in a summer flick: small-town Texas, a coming-of-age tale, best friends, and a big dose of Dolly Parton.
Troop Zero is a story for all of us misfits. Set in rural Georgia in 1977, Christmas forms her own scout troop to compete for the chance to be on NASA's Golden Record.
Appalachian Writers' Workshop
I'm so excited to announce that I've been accepted to the Appalachian Writers' Workshop! Getting into this prestigious writing group was a goal of mine that I wrote down in 2019 as I was finishing the first draft of a novel I've been working on since moving to West Virginia. For the week of July 27-31, I will be doing a deep dive on my current manuscript alongside other writers working on their novels. The one, the only, SILAS HOUSE will lead those of us in the "novel" track. I am beyond elated for the opportunity to learn from these amazingly talented, successful, and respected writers.
Normally, this annual summer writers' retreat takes place at the Hindman Settlement School, on the bank of Troublesome Creek in Eastern Kentucky. Due to COVID-19, the gathering is moving online. I was really looking forward to returning to those lush Appalachian Mountains, but I have no doubt it will still be a productive week that creates meaningful relationships in the literary community.
You're invited to read and eat along with us! 
Hindman has created farm boxes, complete with recipes, of favorite Appalachian eats like biscuits and jam, beans and cornbread, and chow chow. >> Order your own food box <<
And, check out their virtual bookstore >> 50 Essential Reads by the Appalachian Writers' Workshop <<
An enjoyable story about a woman who was a Pack Horse Librarian in Kentucky during the Depression. This story proves books and education are vital to our survival.
Growing up, we watched the Lonesome Dove TV miniseries every summer as a family. The book is equally as great—a must-read for every Texan or lover of literature. This frontier epic is a classic worth reading again and again. One of my all-time favorites.
Note: I am an affiliate of Bookshop.org and I will earn a commission if you click through and make a purchase.
Trappings of Texas Online Through Aug. 2
In a time when we're all learning to appreciate a slower pace of life, a beloved Western event offers us the opportunity to engage with true cowboys and cowgirls of our era and obtain our own one-of-a-kind treasures that commemorate an authentic way of life.
Trappings of Texas, celebrating its 34th anniversary this year, is a distinctive event that showcases a combination of both handmade cowboy gear and Western art. It has become a highly-anticipated show that honors the Lone Star State's rich Western heritage, drawing people from as far as Georgia, Florida, New Mexico, and Colorado to the mountains of the Big Bend Region. With the challenges that COVID-19 has posed, the event has moved online this year, expanding the opportunity for anyone—no matter their location—to participate. Trappings of Texas online sale runs through August 2. The show is the major fundraiser for the Museum of the Big Bend, located on the campus of Sul Ross State University in Alpine. >> Keep Reading <<
Pass On The Love


Please forward this to your dearest friends—you know the ones. Those who send hand-written notes in the mail. Those who find the joy in a simple night of playing cards. Those you're planning your next adventure with. God bless those friends.
Let's stay connected!
For news, insider exclusives, occasional recipes, and book recommendations, sign up for my newsletter. If you're interested in travel, nature, outdoor adventure, literature, film, design, faith, and community—it's for you! I'll keep your info just between us, of course. Thank you and welcome!>> Sign up to receive good news in your inbox from time to time <<