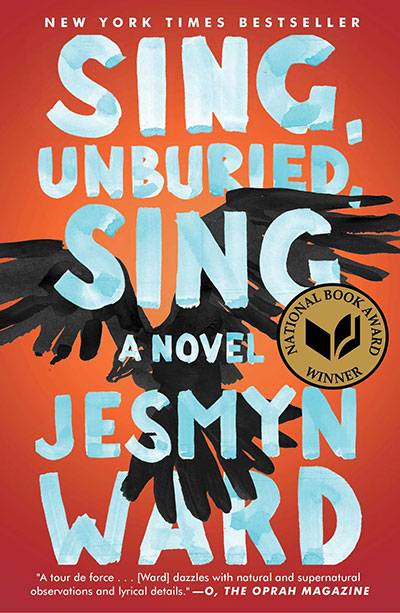 Book Club Reads: A Review of Sing, Unburied, Sing
Jesmyn Ward has laid forth another lyrical masterpiece with Sing, Unburied, Sing, winner of the National Book Award and a New York Times Top 10 Best Book of The Year. Ward weaves themes of poverty, race, home, death, family, and resilience into an American story perhaps some know all too well. We first encounter protagonist Jojo, a thirteen-year-old boy being raised by his grandparents, trying to be brave as he helps his Pop slaughter a goat. From the first sentence, "I like to think I know what death is," Jojo's inner conflict is set and the theme is addressed.
Jojo's white father is in prison and his black mother, the child of Pop and Mam, flits in and out of the house when she's not doing drugs or working a meager job. He calls his parents by their first names—Michael and Leonie—a sign that he's already relinquished any hope of a healthy relationship with them. Instead, he puts his efforts toward looking after Kayla, his baby sister.
When Michael calls to announce he's being released from prison, Leonie decides Jojo and Kayla will go with her to pick him up, along with a friend she does drugs with. It's a journey with a hopeless destination. The reunited "family" heads to Michael's parents' house, only to discover some things never change. This likely leaves the reader disappointed there is not more hint of hope in the possibility of reconciliation, as the story of this family is the story of a country torn apart by fear and prejudice. So, they head back to Pop and Mam's house, where Mam is dying.
Ward melds magical realism, a motif of winged creatures, colloquial language, and some very dark, heartbreaking scenes to chronicle generations of a family's struggle. Haunted by the past, the story of this family crescendos into a quiet argument of a culture stuck in its ways and a youth warble desperate to break free.
Read it now:
Follow me on Goodreads for more suggestions.
Brenda Kissko is a participant in the Amazon Services LLC Associates Program, an affiliate advertising program designed to provide a means for sites to earn advertising fees by advertising and linking to amazon.com.